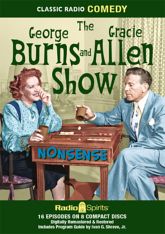 Reality isn't all it's cracked up to be - at least not whenever Gracie 's around! That means that things are always hopping down at the Burns house in this collection of sixteen laugh-packed episodes of The George Burns and Gracie Allen Show! Pitchman Bill Goodwin is on hand, and so is a whole gang of famous guests (including Charles Laughton, Eddie Cantor, Herbert Marshall, Bob Burns, and Claudette Colbert). Includes a Program Guide.


16 digitally remastered episodes on 8 audio CDs.





MORE DETAILS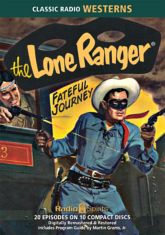 Cattle rustlers, border raiders, claim jumpers and stagecoach robbers -- they all know the masked man on the big white horse! The Lone Ranger rides again across the hills and plains of your imagination in this twenty-episode collection from the spring of 1953. It's hard-riding straight-shooting Wild West adventure at its finest, as Brace Beemer stars as The Masked Man, with John Todd as faithful companion Tonto! Includes a Program Guide.


20 digitally remastered episodes on 10 audio CDs.





MORE DETAILS


| | |
| --- | --- |
| | When Radio Was is Radio Spirits' nationally syndicated radio program which is hosted by old-time radio expert Greg Bell. Tune in today and enjoy the best of old-time radio! |






ADD TO CART

Sgt. Preston: Wild Northwest
The voice is familiar -- and so is the action -- as Brace Beemer takes over the role of Sergeant Preston in this snow-swept collection of rousing northwest adventures from 1955. Get in on the excitement with the strapping Sergeant and his fearless canine companion Yukon King in sixteen original episodes. Includes a Program Guide.
Read more details...
ONLY $31.95






ADD TO CART

Gunsmoke: Flashback
Walk the streets of Dodge City with William Conrad as Marshal Matt Dillon in twenty masterpieces of western storytelling. Dillon was not a straight-backed rider with a steely jaw. He was a man who had seen too much, a survivor of conflicts he'd rather have avoided…a man who knew only too well what errors of judgment could cost on the frontier. Includes a Program Guide.
Read more details...
ONLY $39.98






ADD TO CART

Fibber McGee & Molly: Hometown Hijinks
Take one exasperating small-town blowhard, add a patient and long-suffering wife, mix in a whole neighborhood full of distinctive eccentrics and you've got Fibber McGee and Molly! Wreaking havoc from the kitchen to the closet, fiddling with tools and feuding with neighbors, Fibber finds plenty of trouble in this collection of twenty classic radio episodes. Jim and Marian Jordan star as Mr. and Mrs. McGee, along with Harold Peary as Throckmorton P. Gildersleeve! Includes a Program Guide.
Read more details...
ONLY $39.98






ADD TO CART

The Whistler: Death Watch
Whoever you are, wherever you go, whatever you do…he knows the nameless terrors of which you dare not speak! Tales of crime, intrigue, and grim fate are brought to you by The Whistler! We offer you twenty edge-of-your-seat journeys into the darkest realms of the human soul from radio's preeminent showcase for stories with an unexpected twist. Bill Forman, Marvin Miller,and the recently identified Robert Schopfer star as The Whistler, alongside Elliott and Cathy Lewis, Jack Moyles, Bill Johnstone, Joseph Kearns, Lurene Tuttle, Mary Jane Croft, William Conrad, Gerald Mohr, and more as the fiendish and the fearful. Includes a Program Guide.
Read more details...
ONLY $39.98






ADD TO CART

The Classic Adventures of Sherlock Holmes: The Red Circle & Other Mysteries
The fog is thick, the atmosphere is heavy, and the game's afoot once again! World famous consulting detective Sherlock Holmes and his trusted aide Dr. Watson roam the streets of Victorian London in search of the vital clues that will bring malefactors to justice! Adapted from the original stories by Sir Arthur Conan Doyle, and produced by Jim French, The Classic Adventures of Sherlock Holmes is radio drama at its 21st Century best! John Patrick Lowrie stars as Holmes, with Lawrence Albert as Watson.
Read more details...
ONLY $31.95






ADD TO CART

Suspense: Black Curtain
Join your host, The Man in Black, for twenty gripping installments of Suspense (including the first ever broadcast of "Sorry, Wrong Number"). Legends like Cary Grant, Agnes Moorehead, Peter Lorre, Vincent Price, Orson Welles, and Gene Kelly star. Enjoy these tales well calculated to keep you in…Suspense! Includes a Program Guide.
Read more details...
ONLY $39.98








Frontier Gentleman
The Nasty People
Originally broadcast: 11/2/1958

"Yours Truly, Johnny Dollar"
The Broderick Matter - Part 4
Originally broadcast: 1/17/1955




Use the pulldown to find a Radio Spirits broadcast affiliate in your area!