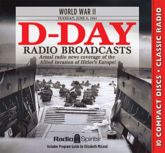 The June 6th, 1944 Allied D-Day invasion of Nazi-occupied France was the turning point of World War II, and the most important news event of the radio era. The invasion received wall-to-wall coverage, with correspondents from every network in the field and on the spot to keep the American public up to date on every step of the dramatic and historical events.


10 Hours on 10 CDs.





MORE DETAILS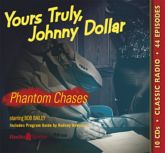 Bob Bailey stars as the dynamic Dollar as he faces fraud, fatalities, and phantom chases. He attends the inscrutable insured, including a doctor who won't see patients, a boxer who shouldn't step inside a ring, and a violinist who wouldn't play…and then couldn't be found. When people die of accidents that were on purpose, or of premeditated natural causes, Johnny brings the justice and the killers get caught.


44 digitally remastered episodes on 10 audio CDs.





MORE DETAILS


| | |
| --- | --- |
| | When Radio Was is Radio Spirits' nationally syndicated radio program which is hosted by old-time radio expert Greg Bell. Tune in today and enjoy the best of old-time radio! |






ADD TO CART

The Shadow: Silent Avenger
An invisible crime fighter was an idea tailor-made for an audio-only medium, where the listener's imagination formed the characters…and everything else. Here are Lamont Cranston's three most memorable voices in tales of dark deeds and darker punishments -- Orson Welles, William Johnstone and Bret Morrison are The Shadow! Agnes Moorhead, Marjorie Anderson, Lesley Woods, and Grace Matthews co-star as the elegant Margo Lane.


Includes a Program Guide.


Read more details...
ONLY $35.95






ADD TO CART

Happy Halloween!
This collection of radio's happiest Halloween moments is replete with good old-fashioned haunted houses, costume parties, cemeteries, tricks and treats. Have fun with favorites like Jack Benny, Hal Peary, William Bendix, Ozzie & Harriet, Lucille Ball, Edgar Bergen & Charlie McCarthy, and Boris Karloff.


This wholesome, family-oriented on-air All Hallows' Eve comedy celebration includes twelve digitally restored and remastered episodes, and an informative Program Guide by Elizabeth McLeod.


Read more details...
ONLY $24.95






ADD TO CART

The New Adventures of Sherlock Holmes: The Stuttering Ghost & Other Mysteries
From the fog-shrouded streets of Victorian London come 16 intriguing episodes, starring Tom Conway as Holmes and Nigel Bruce as Watson, in scripts by mystery legends Denis Green, Anthony Boucher, and more!


Based on the works of Sir Arthur Conan Doyle, these capers of curious clues hidden in plain sight feature performances by Peggy Weber, Gale Gordon, Jay Novello, Gavin Gordon, Frederick Worlock, Mary Gordon, and more. Includes a Program Guide by radio historian and Baker Street Irregular William Nadel.


Read more details...
ONLY $31.95






ADD TO CART

Our Miss Brooks: Good English
Eve Arden stars as Connie Brooks, the teacher with plenty of class, in sixteen hilarious and heartwarming episodes. Gale Gordon, the master of radio's most impressive slow-burn, is her fastidious foil, Principal Osgood Conklin.


While haunting the Madison High hallways in search of one Philip Boynton - a tongue-tied biology teacher who seems more interested in the doings of his pet frog than in amorous advances - Miss Brooks meets with conniving co-workers, addled athletes, wide-eyed girls, and the feckless flatterer Walter Denton.


Jeff Chandler, Richard Crenna, Robert Rockwell, Jane Morgan, and more fill out the rolls…er, roles...in this crisp and clever comedy.


Read more details...
ONLY $31.95






ADD TO CART

The Phil Harris - Alice Faye Show: Family Values
Phil Harris a curly-haired, pearly-toothed darling of the swank West Coast nightspots, had just the slightest bit of self-parody in his manner, and just the right edge of charming braggadocio to be funny without being offensive. Wife Alice, and their precocious little girls, could be just as sharp-tongued and sarcastic as Phil himself!


The delightful delinquents that round out the cast are played by Elliot Lewis, Walter Tetley, Jeanine Roose, Anne Whitfield, Robert North, and John Hubbard. Includes 20 digitally restored and remastered episodes, many of which are available for the first time anywhere - plus, a Program Guide by Elizabeth McLeod.


Read more details...
ONLY $39.98






ADD TO CART

Mr. and Mrs. North: Touch of Death
Jerry North, the suave and successful book publisher, is married to the resourceful, glamorous, and quick-witted Pam. This terrific two-some is just as comfortable dealing with blood stains and dead bodies as they are hosting dinner parties or going out for an evening of dancing. And, that's a good thing…because each week finds them smack in the middle of a murder!


Joseph Curtin, Alice Frost, Richard Denning and Barbara Britton are featured in this collection of 16 digitally restored and remastered episodes - featuring several broadcasts that have never before been available to the public, and a Program Guide by Rodney Bowcock.


Read more details...
ONLY $31.95








Grand Central Station
6th Annual Christmas Program
Originally broadcast: 12/22/1955

Superman
Happyland Amusement Park - Part 3
Originally broadcast: 7/12/1940


---
You can also listen FREE on your iPhone or Android device:


Click here for our FREE iPhone App

Click here for our FREE Android App


Use the pulldown to find a Radio Spirits broadcast affiliate in your area!