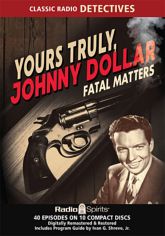 Insurance investigator Johnny Dollar was a man of contradictions. He was tough and compassionate, sardonic and thoughtful.


You never knew quite what he might do to solve a case -- but you always knew he'd get it done! Bob Bailey stars as Johnny for five fascinating five-part serial adventures, and a collection of harrowing half-hour tales! Prepare the expense report! Includes a Program Guide.


40 digitally remastered episodes on 10 audio CDs.





MORE DETAILS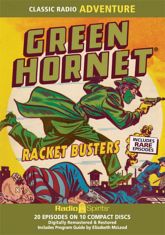 The war might be over, but for daring publisher Britt Reid, there's one fight that never ends -- the battle against organized crime! With mask in place, gas gun in hand, and faithful valet Kato by his side, The Green Hornet surges forth against postwar racketeers and crime lords in this collection of twenty original radio adventures!


Jack McCarthy stars as Britt Reid, wading into a world where no one was ever quite what they seemed, and nobody could ever quite be trusted. Lee Allman co-stars as Lenore Case, with Gilbert Shea as Mike Axford, Jack Petruzzi as Ed Lowry, and Michael Tolan as Kato. Listen in as shady politicians, cheap hoods, malicious mobsters, and vicious killers all feel the sting of The Green Hornet! Includes a Program Guide.


20 digitally remastered episodes on 10 audio CDs.





MORE DETAILS


| | |
| --- | --- |
| | When Radio Was is Radio Spirits' nationally syndicated radio program which is hosted by old-time radio expert Greg Bell. Tune in today and enjoy the best of old-time radio! |





Sherlock Holmes: The Curious Crypt & Other Mysteries
John Stanley takes over the role of the World's Most Famous Consulting Detective in this collection of Sherlock Holmes radio adventures, with Wendell Holmes as Watson! Priceless artifacts, vital plans, and human lives are at stake through eight hours of exciting episodes.


This series goes back to basics with sixteen classic tales of deductive mystery in the grand manner, mixing original adaptations of the Doyle canon with brisk new stories. Includes a Program Guide.


Read more details...





The Man Called X: Race Against Death
Mystery, adventure, and international intrigue surround Ken Thurston, The Man Called X! Radio's most enduring cloak-and-dagger drama presents suave stage and screen star Herbert Marshall in sixteen tales of globetrotting espionage!


Announcer John McIntire tells of the man "who crosses the ocean as readily as you or I cross town." Leon Belasco co-stars as Pegon Zellschmidt, with a supporting cast that includes Ge Ge Pearson, Steven Geray, Ted von Eltz, Frank Graham, Alan Reed, Cathy Lewis, William Conrad, and more. Includes a Program Guide.


Read more details...





Harry Nile: Harry's Game
From out of the rain-swept postwar night comes Harry Nile -- a man who's seen it all, because he just can't look away. Here are nineteen state-of-the-art radio noir dramas, produced by West Coast legend Jim French, and starring Larry Albert as the hard-boiled, straight-shooting Harry!


This 8-CD collection includes four more installments of the "War Comes To Harry Nile" storyline, a Christmas episode, two 2-part adventures, and more. You'll hear Pat French, Jay Green, John Patrick Lowrie…and a whole bunch of killer cases.


Read more details...





The Whistler: Murder in Haste
Everyone has secrets...but some secrets are more sinister than others. Wander the foreboding, shadow-filled streets of the imagination in tales that explore the "nameless terrors of which we dare not speak."


Bill Forman stars as The Whistler, alongside the suspiciously skillful William Conrad, Gerald Mohr, Elliott and Cathy Lewis, Howard Duff, Doris Singleton, Betty Lou Gerson, and more. Hear them all in in twenty tense tales of crime, suspense, and fate! Includes a Program Guide


Read more details...





Gunsmoke: Bloody Hands
Presented here are thirty Western stories of unparalleled realism and uncompromising emotional complexity. Marshal Matt Dillon (William Conrad) doesn't revel in violence, but he uses it because he lives in a violent place at a violent time, where only the violent can survive.


Standing by the Marshal are his shambling deputy Chester (Parley Baer), his acerbic confidant Doc (Howard McNear), and the pretty saloon girl Kitty (Georgia Ellis). Townspeople, ranchers, gunfighters, and lost souls are drawn to Dodge City for encounters with Dillon. Some walk away. Some don't. Includes a Program Guide.


Read more details...





The Phil Harris-Alice Faye Show: Reminiscing
Take one chuckleheaded bandleader, add one eye-rolling movie star, mix in two sarcastic kids, sauté with one complete and utter reprobate, garnish with one malevolent teenage boy, and serve with one dyspeptic sponsor. And what have you got? The Phil Harris-Alice Faye Show!


Radio's most outrageous situation comedy dishes up twenty more laugh-riot half-hours…including rare episodes and the very first broadcast of Phil and Alice's very first series! Elliott Lewis co-stars as Frankie Remley, with Walter Tetley as Julius, and Gale Gordon as Mr. Scott. Includes a Program Guide.


Read more details...








The Jack Benny Program
Cactus Christmas Tree
Originally broadcast: 12/20/1953

Lum & Abner
Mousey Gray Comes Home
Originally broadcast: 3/25/1943




Use the pulldown to find a Radio Spirits broadcast affiliate in your area!