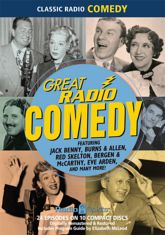 Who's laughing now? It's you! Why? Because you're settling back with a rib-tickling collection of Great Radio Comedy! All of your favorites are here: Jack and Fred, Phil and Alice, Fibber and Molly, Edgar and Charlie, George and Gracie, Lum and Abner, Snooks and Daddy, and many more! Crack a smile as the kings and queens of comedy crack wise. Includes a Program Guide.


24 digitally remastered episodes on 10 audio CDs.





MORE DETAILS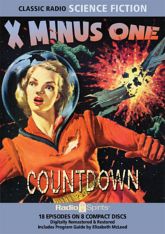 Onward into the future with radio's most acclaimed science fiction anthology! From producer William Welch, script editors Ernest Kinoy and George Lefferts, and a rocket full of the genre's most respected authors come eighteen classic episodes of X Minus One! Includes a Program Guide.


18 digitally remastered episodes on 8 audio CDs.





MORE DETAILS


| | |
| --- | --- |
| | When Radio Was is Radio Spirits' nationally syndicated radio program which is hosted by old-time radio expert Greg Bell. Tune in today and enjoy the best of old-time radio! |






ADD TO CART

Dragnet: The Big Blast
Jack Webb and Barton Yarborough star as Joe Friday and Ben Romero -- just a couple of cops doing their job. Follow them step-by-step through twenty true-to-life cases, drawn from the files of the Los Angeles Police Department. Their dialogue was never clichéd or exaggerated, and their cases never relied on jumped-up action sequences to deliver impact. Whether they were on the trail of a car thief with violent tendencies, a fast-moving gang of safecrackers, a kidnapper, a mail thief, or a murderer, their job was the same: get 'em. Includes a Program Guide.
Read more details...
ONLY $39.98






ADD TO CART

Frontier Gentleman
John Dehner stars as J.B. Kendall, a reporter for the London Times who writes and fights his way through the Wild West. Roaming the territories in search of "colorful and unusual accounts," he has regular brushes with both the famous and the infamous. This 10 compact disc collection features 21 episodes of the classic adult Western created, produced, written, and directed by radio legend Antony Ellis - including the series' audition recording starring Ben Wright in the lead role. Includes a Program Guide.
Read more details...
ONLY $39.98






ADD TO CART

The Adventures of Harry Nile: Seattle Blues
Harry Nile is a former Chicago cop, who quit the force after uncovering a vein of corruption. He stalks the rainy streets of pre-war Seattle on behalf of private clients with the help of his assistant, a lady named Murphy. Phil Harper stars as Nile, with Pat French as Murphy, in this exciting series that has been heard on radio stations coast to coast in the U.S. and Canada, on satellite radio, and reached a worldwide audience online. After more than 25 years, it's the longest running private-eye show in American radio history!
Read more details...
ONLY $31.95






ADD TO CART

Jack Benny: Planes, Trains and Automobiles
Hit the road, Jack! Take a train, a plane, or even a ship! Wherever he goes, and however he gets there, Jack Benny is always good for a laugh. Mary Livingstone, Phil Harris, Eddie "Rochester" Anderson, Dennis Day, and Don Wilson come along for the ride in sixteen travel themed adventures in this 8-CD collection. Includes a Program Guide.
Read more details...
ONLY $31.95






ADD TO CART

Boston Blackie: Death Wish
Tough, yet compassionate -- and a first-class detective besides -- that's Boston Blackie. The infamous safe cracker turned private eye will lead you through sixteen hard-hitting crime classics from 1947-48! Richard Kollmar stars as Blackie, with Lesley Woods as Mary Wesley and Maurice Tarplin as Inspector Faraday. The race is on for our hero to capture the killers, recover the diamonds…and clear his own name! Includes a Program Guide.
Read more details...
ONLY $31.95






ADD TO CART

Inner Sanctum: Pattern For Fear
Step into radio's legendary house of horrors. The only program on the air to combine pitch-dark horror with sardonic humor, sending forth its undead monstrosities with rotting tongue pressed firmly into cheek. The razor-voiced Raymond Edward Johnson handles his hosting duties like an oily insurance salesman with a sideline in ax murder, while playful Paul McGrath brings forth an effortlessly exaggerated sense of black comedy. Come in! You'll never know what's going on behind the rust-metal shriek of the infamous Creaking Door until you open it... Includes a Program Guide.
Read more details...
ONLY $31.95








The Charlie McCarthy Show
Orson Welles Leads a Museum Tour
Originally broadcast: 10/29/1944

The Couple Next Door
The School Bus
Originally broadcast: 3/6/1958


---
You can also listen FREE on your Apple device:


Click here for our FREE iPhone App


Use the pulldown to find a Radio Spirits broadcast affiliate in your area!