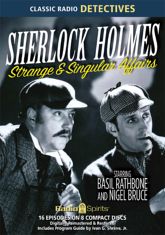 Headless monks, disappearing scientists, demon barbers, and clever killers abound when Sherlock Holmes is on the case! Basil Rathbone and Nigel Bruce are the World's Greatest Detective and his doughty sidekick in this collection of sixteen classic episodes! Includes a Program Guide.


16 digitally remastered episodes on 8 audio CDs.





MORE DETAILS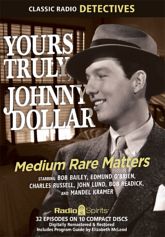 Charles Russell, Edmund O'Brien, John Lund, Bob Readick, Mandel Kramer, and the incomparable Bob Bailey star in these digitally restored and remastered adventures. This 32 episode collection includes four serials (two of which are missing a middle chapter). Includes a Program Guide.


32 digitally remastered episodes on 10 audio CDs.





MORE DETAILS


| | |
| --- | --- |
| | When Radio Was is Radio Spirits' nationally syndicated radio program which is hosted by old-time radio expert Greg Bell. Tune in today and enjoy the best of old-time radio! |






ADD TO CART

Gunsmoke: Around Dodge City
Here are Western stories with an adult sensibility -- complex tales of difficult choices and moral dilemmas played out against the backdrop of frontier America. William Conrad is Marshal Matt Dillon in twenty thoughtful, exciting episodes of Gunsmoke! Howard McNear co-stars as Doc, with Parley Baer as Chester, and Georgia Ellis as Kitty in these broadcasts from 1954-1955. They are joined by John Dehner, Virginia Gregg, Joseph Kearns, Jeanette Nolan and more. Includes a Program Guide.
Read more details...
ONLY $39.98






ADD TO CART

Jack Benny: Tough Luck!
Jack Benny can't get a date…on his birthday. He gets mugged…out in the rain...and then catches cold! His teeth hurt, he loses a sponsor, and he gets shown up by a bunch of eight year old geniuses! Everything seems to happen to him! And he can rely on his usual gang - Mary Livingstone, Phil Harris, Dennis Day, Eddie "Rochester" Anderson, Don Wilson, Bob Crosby, and The Sportsmen - to tease him about it!
Read more details...
ONLY $39.98






ADD TO CART

The Green Hornet: City Hall Shakeup
Mask in place, cloak flowing, gas gun at the ready -- radio's pulpiest crime-fighter prowls the streets of a corrupt American city as The Green Hornet! Hop aboard the sleek, supercharged vehicle known as The Black Beauty with wealthy young publisher Britt Reid and his faithful valet Kato for twenty thrilling tales of urban crime! Jack McCarthy stars as Britt Reid, the mysterious vigilante. Rollon Parker co-stars as Kato, with Lee Allman as Lenore Casey, and Gilbert Shea as Mike Axford. Includes many rare episodes.
Read more details...
ONLY $39.98






ADD TO CART

This Is Your FBI: National Security
Saboteurs and spies! Con artists, kidnappers, and interstate felons galore! They're all fair game for Special Agent Jim Taylor, steely-eyed G-Man in This Is Your FBI! Firm-jawed, firm-voiced Stacy Harris stars as Taylor, cracking down on swindlers and bunco artists, bank robbers and blackmailers, safe crackers, extortionists, and double-crossers with an air of quiet authority. Includes a Program Guide.
Read more details...
ONLY $31.95






ADD TO CART

Dragnet: The Big Gamble
Racketeers and robbers, crap-shooters and kidnappers, hit men and hard cases-- watch out! Joe Friday's on the job, and he isn't here to fool around! Join Jack Webb for twenty gritty true-life tales of urban crime from the files of the Los Angeles Police Department. Ben Alexander, Martin Milner, Jack Kruschen, Virginia Gregg, June Whitley, Stacy Harris, and more co-star as the city's cops, concerned citizens, and cold criminals.
Read more details...
ONLY $39.98






ADD TO CART

Fibber McGee & Molly: Gone Fishing
With a crash and and a thump and a tumble and a bang, open up the closet door for another hilarious visit with Fibber McGee and Molly! Head down to Wistful Vista with Jim and Marian Jordan for twenty zany radio comedy classics! Bill Thompson is heard as The Old Timer and Wallace Wimple, with Gale Gordon as Mayor LaTrivia and Foggy Williams, Arthur Q. Bryan as Doc Gamble, and Harlow Wilcox announcing in these entertaining episodes from 1948.
Read more details...
ONLY $39.98








Richard Diamond Private Detect
Eddie Burke Case
Originally broadcast: 2/8/1952

"Yours Truly, Johnny Dollar"
The Molly Kay Matter - Part 2
Originally broadcast: 10/11/1955


---
You can also listen FREE on your Apple device:


Click here for our FREE iPhone App


Use the pulldown to find a Radio Spirits broadcast affiliate in your area!