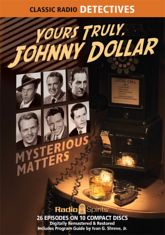 Six voices, but just one larger-than-life attitude! The "man with the action packed expense account" is back in action in 26 thrilling episodes. Charles Russell, Edmund O'Brien, John Lund, Bob Readick, Mandel Kramer, and of course Bob Bailey star as America's Fabulous Freelance Insurance Investigator. Includes a Program Guide.


26 digitally remastered episodes on 10 audio CDs.





MORE DETAILS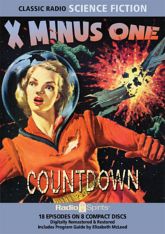 Theodore Sturgeon, Philip K. Dick, Ray Bradbury, Isaac Asimov, and Robert Sheckley bring you early-Space Age adventure, wonder and fear. Test the limits of physics, hope, and imagination. Ponder what lies beyond the stars…and what lies in store for humanity. Includes a Program Guide.


18 digitally remastered episodes on 8 audio CDs.





MORE DETAILS


| | |
| --- | --- |
| | When Radio Was is Radio Spirits' nationally syndicated radio program which is hosted by old-time radio expert Greg Bell. Tune in today and enjoy the best of old-time radio! |






ADD TO CART

Dragnet: Big Crime
No crime in the Fifties? Don't tell Joe Friday that! Here's radio's top cop taking on all the vice the postwar decade had to offer in twenty true-life police procedurals starring Jack Webb as Sgt. Joe Friday and Ben Alexander as Det. Frank Smith! Includes a Program Guide.
Read more details...
ONLY $39.98






ADD TO CART

Fibber McGee & Molly: Cleaning the Closet
Wartime America needed all the laughs it could get -- and that's why every Tuesday night found millions heading on down to Wistful Vista for a half hour of fun with Fibber McGee & Molly. Join Jim and Marian Jordan, along with Arthur Q. Bryan, Gale Gordon, Shirley Mitchell, Isabel Randolph, Ransom Sherman, Bill Thompson, and Harlow Wilcox, for twenty hilarious episodes! Includes a Program Guide.
Read more details...
ONLY $39.98






ADD TO CART

The Lone Ranger: Masked Rider
The Lone Ranger thrilled generations of radio listeners with tales of Old West drama for all ages -- and those tales are just as lively today! In this new collection you'll find yourself on the trail to excitement as legendary announcer Fred Foy combines barely-controlled enthusiasm with razor-sharp diction. We invite you to join Brace Beemer as the Masked Man and John Todd as Tonto for ten full hours of bullets, bank robbers, and brotherhood from 1954 -- including several rare episodes! Includes a Program Guide.
Read more details...
ONLY $39.98






ADD TO CART

Dark Venture
From out of the murk of a terrifying night come tales of the unexplained, the unfathomable, and the uncanny! Howard Duff, William Conrad, Elliott Lewis, Jack Moyles, Marvin Miller, Lou Merrill, Betty Lou Gerson, and narrator John Lake take you on ten radio journeys into the darkest reaches of the human soul! Includes a Program Guide.
Read more details...
ONLY $22.95






ADD TO CART

Burns & Allen: Keep Smiling
Logically illogical -- that's Gracie Allen! And you can imagine what that means for her long-suffering husband George Burns! Listen along as Gracie encourages George to get more romantic and discourages his singing. These digitally restored and remastered shows - many of which have not been heard since their initial broadcast more than fifty years ago - feature visits by a number of curious callers, including Charles Mortimer (the future president of General Foods) and NBC vice-president Sidney Strotz! Includes a Program Guide.
Read more details...
ONLY $31.95






ADD TO CART

Jack Benny: The Fabulous 50's
It's mid-century madness as Jack Benny slides smoothly into the 1950s with great guests, hilarious running gags, and even a song or two! This classic collection features episodes from Jack's final years on radio, accompanied by his constant cohorts Mary Livingstone, Phil Harris, Bob Crosby, Eddie "Rochester" Anderson, Dennis Day, the Sportsmen Quartet, and Don Wilson. Includes a Program Guide.
Read more details...
ONLY $39.98








Alan Young Show
New Checking Account
Originally broadcast: 1/31/1947

Burns & Allen
George for School Board of Beverly Hills - Part 1
Originally broadcast: 5/25/1943


---
You can also listen FREE on your Apple device:


Click here for our FREE iPhone App


Use the pulldown to find a Radio Spirits broadcast affiliate in your area!