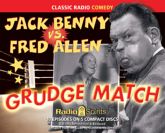 A squabble, touched off by Fred Allen's remark comparing Jack Benny unfavorably to a ten-year-old violinist, soon escalated to epic proportions. The pair set radio ablaze with their famous feud. Here are Jack, Fred, Mary Livingstone, Eddie "Rochester" Anderson, Dennis Day, Phil Harris, Portland Hoffa, Minerva Pious, Alan Reed, Jack Smart, Parker Fennelly, Kenny Delmar, and all the rest of their regulars carrying on through the 1940s in ten hilarious on-air conflagrations!


10 digitally remastered episodes on 5 audio CDs.





MORE DETAILS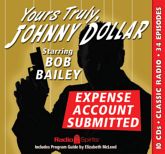 On Yours Truly, Johnny Dollar, insurance investigation is a lot more than just documenting car accidents and property damage. Bob Bailey stars as Dollar in 34 digitally restored and remastered episodes. Working freelance, he's called in on only the most suspicious claims, the most dangerous deals, and the most profitable policies. On the road to adventure and intrigue, he narrates each week's tale through the tally of his expense account.


34 digitally remastered episodes on 10 audio CDs.





MORE DETAILS


| | |
| --- | --- |
| | When Radio Was is Radio Spirits' nationally syndicated radio program which is hosted by old-time radio expert Greg Bell. Tune in today and enjoy the best of old-time radio! |






ADD TO CART

Sam Spade: Lawless
No bigger fad swept across postwar radio than that of the hard-boiled private detective -- and nobody had more fun with their wink-and-nudge take on the genre than the producers, writers, and cast of The Adventures of Sam Spade.


Dashiell Hammett's legendary private eye had a sardonic sense of humor, which wavy-haired, rugged-voiced Howard Duff played to perfection. Produced and directed by William Spier, co-starring Lurene Tuttle, and featuring one episode with Stephen Dunne in the title role, we bring you sixteen capers with the greatest private detective of them all. Includes a Program Guide by Elizabeth McLeod.


Read more details...
ONLY $31.95






ADD TO CART

Chandu the Magician
Frank Chandler, a dignified globe-trotting American, learned certain mystical secrets while studying under the wise men of the East. Those secrets gave him near-unlimited psychic powers, turning him into Chandu the Magician. In his global war on the powers of ancient evil, he is joined by the mysterious Egyptian princess Nadji, his sister Dorothy Regent, and his niece and nephew Betty and Bob.


Tom Collins stars as Chandu in these exotic half hour episodes from 1949 that deliver just the right mix of mystery, intrigue, and adventure!


Read more details...
ONLY $24.95






ADD TO CART

The Harold Peary Show: Honest Harold
From Summerfield to Melrose Springs, Harold "The Great Gildersleeve" Peary is back in an all-new role! As "Honest Harold" Hemp, he's a radio personality extraordinaire, crooner de la crème, and idol of all the ladies -- at least in his own mind.


Co-starring Jane Morgan, Cathy Lewis, Olan Soule, Joseph Kearns, and Gloria Holliday, here are sixteen warm and funny episodes of The Harold Peary Show, produced and directed by Norman Macdonnell. Includes a Program Guide.


Read more details...
ONLY $31.95






ADD TO CART

Great Radio Detectives
Gunshots, fist fights, and footsteps in the dark! Come hear crime and mystery, action and suspense with radio's greatest detectives! Ten hours of bracing crime stopping broadcasts bring you Sherlock Holmes, Sam Spade, The Saint, The Shadow, Johnny Dollar, Bulldog Drummond -- and fourteen more favorites!


Vincent Price, Bob Bailey, Basil Rathbone, Howard Duff, Dick Powell, and more star in twenty tales that are hard boiled and heroic, brilliant and bloody. Includes an informative Program Guide by broadcast historian Elizabeth McLeod!


Read more details...
ONLY $39.98






ADD TO CART

Michael Shayne: Murder, Prepaid
Red-hot and red-headed, he's looking for adventure on the mean streets of San Francisco and New Orleans! He's Brett Halliday's hard-boiled creation Michael Shayne.


This rough and reckless Irishman is letting loose in this collection of sixteen pulse-pounding dramas starring tough guys Wally Maher and Jeff Chandler. Cathy Lewis co-stars as Phyllis Knight, with Joe Forte as Homicide Inspector Faraday, and Jack Webb as Homicide Inspector LeFevre. Includes a Program Guide.


Read more details...
ONLY $31.95






ADD TO CART

Philip Marlowe: Sucker's Road
It's radio noir at its best! Raymond Chandler's hardboiled private detective digs into the dark underbelly of postwar Los Angeles in twenty tense radio mysteries.


Gerald Mohr stars as Philip Marlowe, following the clues and plot twists through tales of suicide and secrets, death bed confessions and the old double cross, the missing and the murdered.


Includes performances by Jeff Corey, Joan Banks, John Dehner, Lawrence Dobkin, Herb Butterfield, Virginia Gregg, and William Conrad (who takes on the role of Marlowe for one episode) -- plus a detailed Program Guide.


Read more details...
ONLY $39.98








Burns & Allen
Gracie Does The Income Tax - Part 2
Originally broadcast: 1/15/1948

Adv. of Nero Wolfe
Case of the Final Page
Originally broadcast: 3/23/1951


---
You can also listen FREE on your iPhone or Android device:


Click here for our FREE iPhone App

Click here for our FREE Android App


Use the pulldown to find a Radio Spirits broadcast affiliate in your area!